Recover deleted photos today! Memory card and compact flash recovery!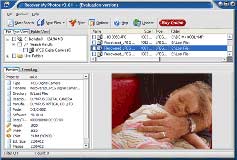 Digital photo recovery is easy with Recover My Photos. Follow these steps:
1. Download and install 'Recover My Photos' on your PC;
2. Connect your camera to your PC or place your compact flash, smart media or other memory card into a card reader connected to your PC;
3. Run Recover My Photos and scan your memory card or even scan your PC hard drive. Then...
View pictures in the digital photo recovery preview window!
Lost picture recovery is 100% Safe, Secure and Guaranteed
4. If you can see the files you wish to recover purchase a license key via our secure server and save your photographs.
Read more about digital photo recovery here...

Most digital cameras do not wipe digital pictures from your storage media when you delete images or use the format command. If your digital camera storage media is corrupt and you get the message "Media is not formatted would you like to format now?", lost picture recovery may still be possible. Recover My Photos searches your media at a low level to recover photos and display the deleted pictures.
Recover My Photos works with many types of direct camera connections where your media card appears as a drive letter on your PC. If your camera is not displayed as a drive letter when connected to your PC you can use a digital camera card reader.
If you are asking how do I recover deleted photos, Recover My Photos is fast and easy. No technical skill is required to recover deleted photos. It works for compact flash data recovery, smart media data recovery, memory card recovery, or other storage media including your PC hard drive.
What you see is what you get! Any pictures that you see in the free trial version can be safely recovered once you have purchased and registered the program. A software registration key is provided on-line at the end of the purchase process and is also sent to you by email for fast recovery. Recovered pictures need to be saved to separate drive (e.g. 'D:/') from the one on which they were recovered.
Registration of the software includes free lifetime updates and support. We are the experts in photo picture data recovery software, please do not hesitate to contact us if you require assistance.

Download Recover My Photos: Digital Photo Recovery Software
Click the "Download" button below and download "RecoverMyPhotos-Setup.exe" to your computer.
Run "RecoverMyPhotos-Setup.exe" and follow the on screen installation instructions.
NOTE: Software will only run on Windows PC's