Repair Microsoft Word Files - FREE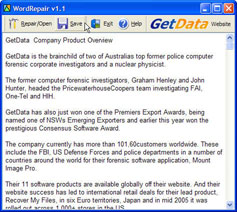 Repair My Word is a data recovery program for Microsoft Word documents. It is designed to recover text from damaged or corrupt Word files (.doc files) that will not open normally. The recovered text can then be saved as an error free Microsoft Word document.
This program does NOT work for Office 2007 .docx files.
Some common error messages which can prevent a user opening a Microsoft Word document include:
"The document name or path is not valid. Try these suggestions. Check the file permissions for the document or drive. Use the File Open dialog box to locate the document."
"Word cannot open the document."
"Word cannot open the document: user does not have access privileges."
When you attempt to open a Microsoft Word 97 document into Microsoft Word version 6.x or 7.x, the document contains garbage characters.
Repair My Word will allow you to obtain access to the contents of corrupt word documents. It will repair Microsoft Word 6.0, Word 95, 97, 2000, XP, and 2003 for Windows.
Repair My Word is simple to use. Just open the corrupt Word file, preview the recoverable text in the preview window and save this text to a new error free Word file.

Download Repair My Word - FREE
Click the "Download Now" button to download Word Repair.