Options
To access the program options, click on the Options button in the main program tool bar.
File Types Tab
Select the files types that you wish to search for by placing a tick in the box.
General Tab
The "General" tab contains options such as whether the Recover My Files "Wizard" or "Tips on Startup" dialogue boxes appear when the program is opened.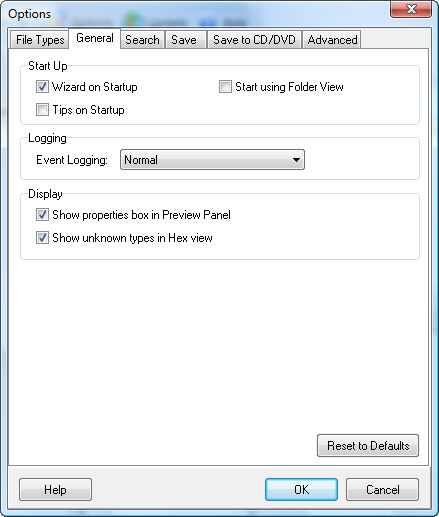 "Event Logging" can be set to 3 levels; None, Normal and Debug. The Event Log is displayed under a tab in the Preview Window. It contains detailed information about the activity of the program and can assist in troubleshooting the File Recovery process.
If the box "Show Properties box in Preview Panel" is checked the Lower Left-side Preview Pane will be visible.
If the box "Show unknown types in Hex view" is checked then file types that have not been selected or not recognized by Recover My Files will be displayed in raw hexadecimal format.  Use this option if you wish to view unrecognized files in raw hexadecimal format.
Search Tab
The "Search" tab controls how Recover My Files will search for your Deleted and Lost Files.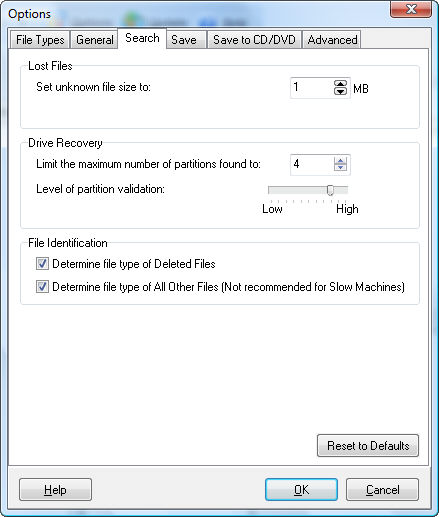 Save Tab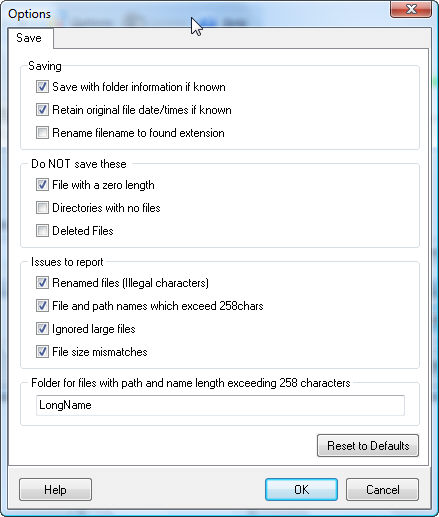 Save to CD / DVD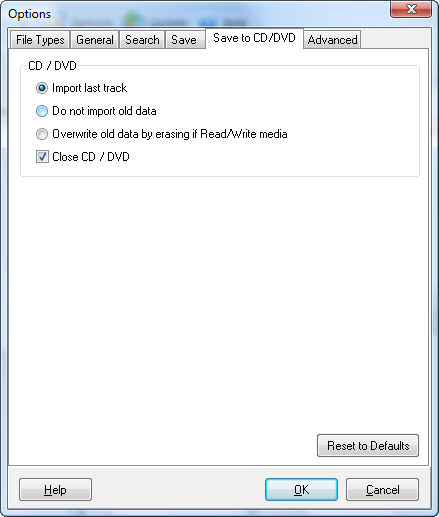 Import Last Track:
If the CD or DVD has previously been used to store data, the "Import Last Track" setting ensures that this existing data will still be available on the disk after the new data has been burnt by Recover My Files.
Do Not Import Old Data:
The opposite of "Import Last Track", if "Do Not Import Old Data" is selected, any existing data on the CD or DVD will not be visible after the new data is burnt with Recover My Files.
Close CD / DVD
Closing a CD or DVD at the end of a burn means that no further data can be burnt to that disk.
Advanced Tab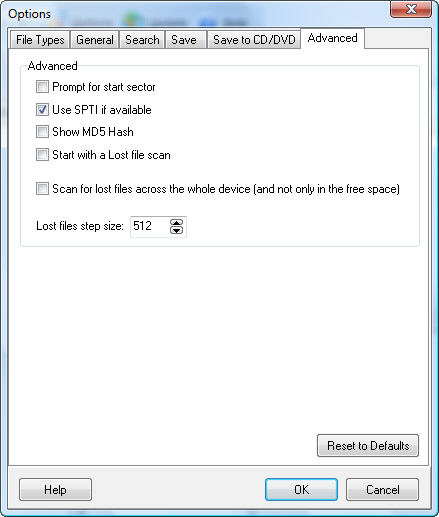 Use SPTI if Available
SPTI (SCSI Pass-Through Interface) from Microsoft is a method of accessing storage devices in your PC.